Regular price
Sale price
$10.50 USD
Unit price
per
Sale
Sold out
Ravioli, the plural term for raviolo, is a type of filled pasta with various fillings, shapes, and sizes depending on the region in Italy.

In ancient Italy, ravioli is traced back to personal letters of Francesco di Marco Datini, a merchant of Prato in the 14th century, and in the manuscript Libro per cuoco, where there is a ravioli recipe of green herbs blanched and minced, mixed with beaten egg and fresh cheese, simmered in broth and seasoned with sweet and strong spices.

Our Beef & Spinach Ravioli are shaped with the familiar and classic square with ridged pressed edges that seal in the filling. We use Neapolitan flour, fresh parsley, and eggs to create a square shaped pouch that encapsulates ground beef, fresh cheeses, spinach, eggs and spices to create the most delicate, supple and plump dumpling of pasta.

Authentically handcrafted with GMO-free grains, and without the use artificial flavors, colors, preservatives, or additives.
Cook Time

10-12 minutes

• Boil 4-5 quarts of water with 1 table spoon of salt.

• Add pasta to boiling water, return to a full boil then immediately reduce to a gentle boil, and stir occasionally.

• Taste and cook until pasta is tender with a bite.

• Save 1 cup of pasta water and add a portion into your prepared pasta for depth and moisture.

• Drain, sauce, and serve.
Full Instructions
Ingredients

Filling: Ground beef, ricotta cheese, spinach, breadcrumbs, parmesan cheese, eggs, seasonings.

Pasta: Non-GMO Neapolitan 00 flour, eggs, water, parsley, salt.
Servings

Net wt: 14 oz (397g)
Serves 3 people
Allergens

Contains: Wheat, eggs, dairy.

Manufactured in a facility that processes wheat, eggs, dairy, shellfish and tree nuts.
Shelf Life

Keep Frozen

3 days refrigerated
3 months frozen (Do not defrost if frozen. Prepare frozen.)
Share
View full details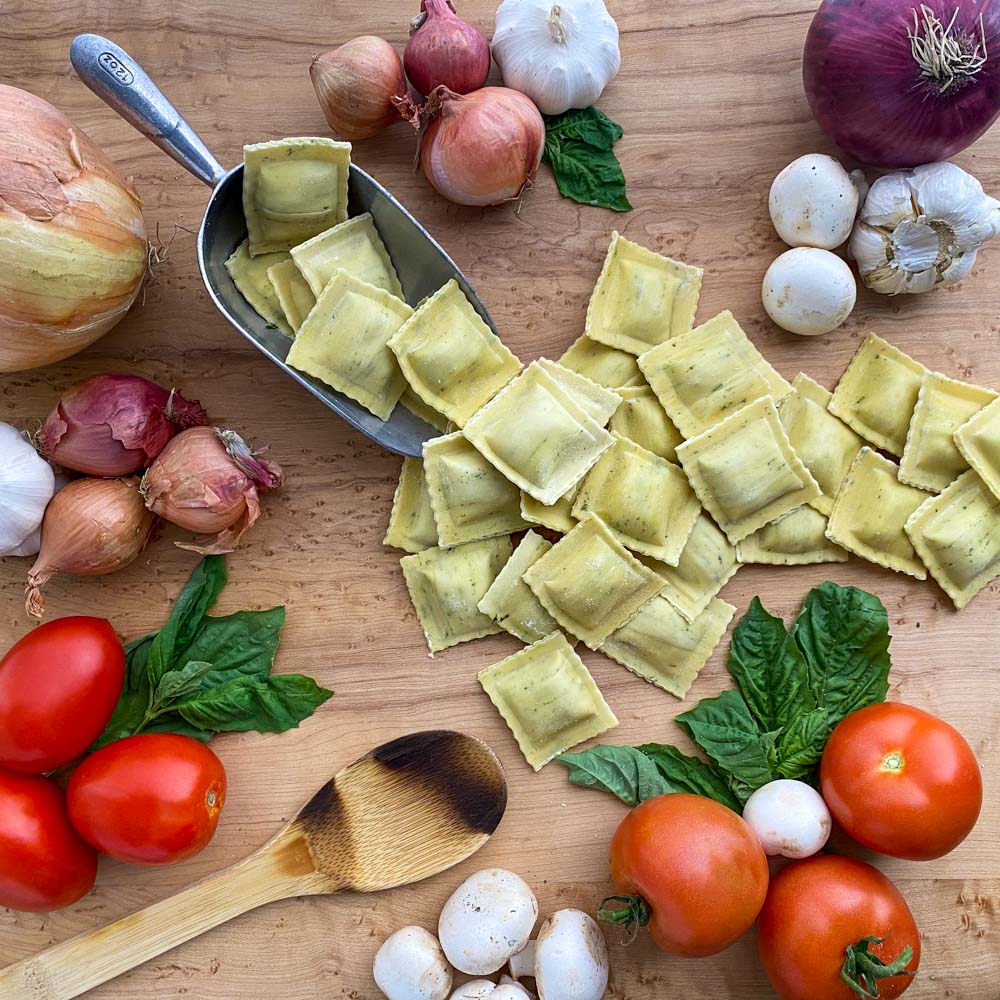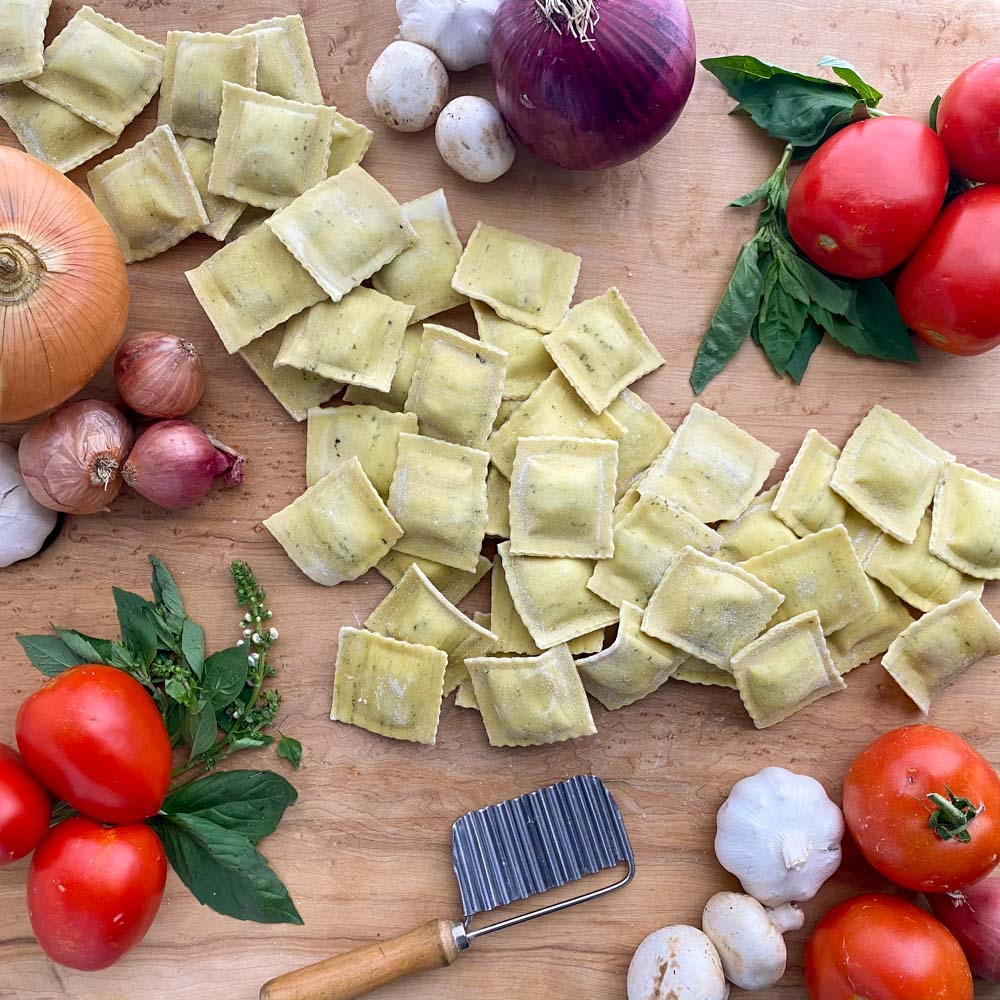 Eat Confidently
Eat confidently and with assurance. When you purchase any of our products, you're buying a whole food based product.
We believe that the finest foods comes from care, respect and mindfulness for what you put in your body.
That's why when you purchase any of our products you can be certain that they're free from strange processing, free of artificial/natural flavors, colorings, and preservatives.
Our pasta is made fresh daily with GMO-free grains, and all of our flavored and vibrantly colored pasta is sourced from vegetable ingredients.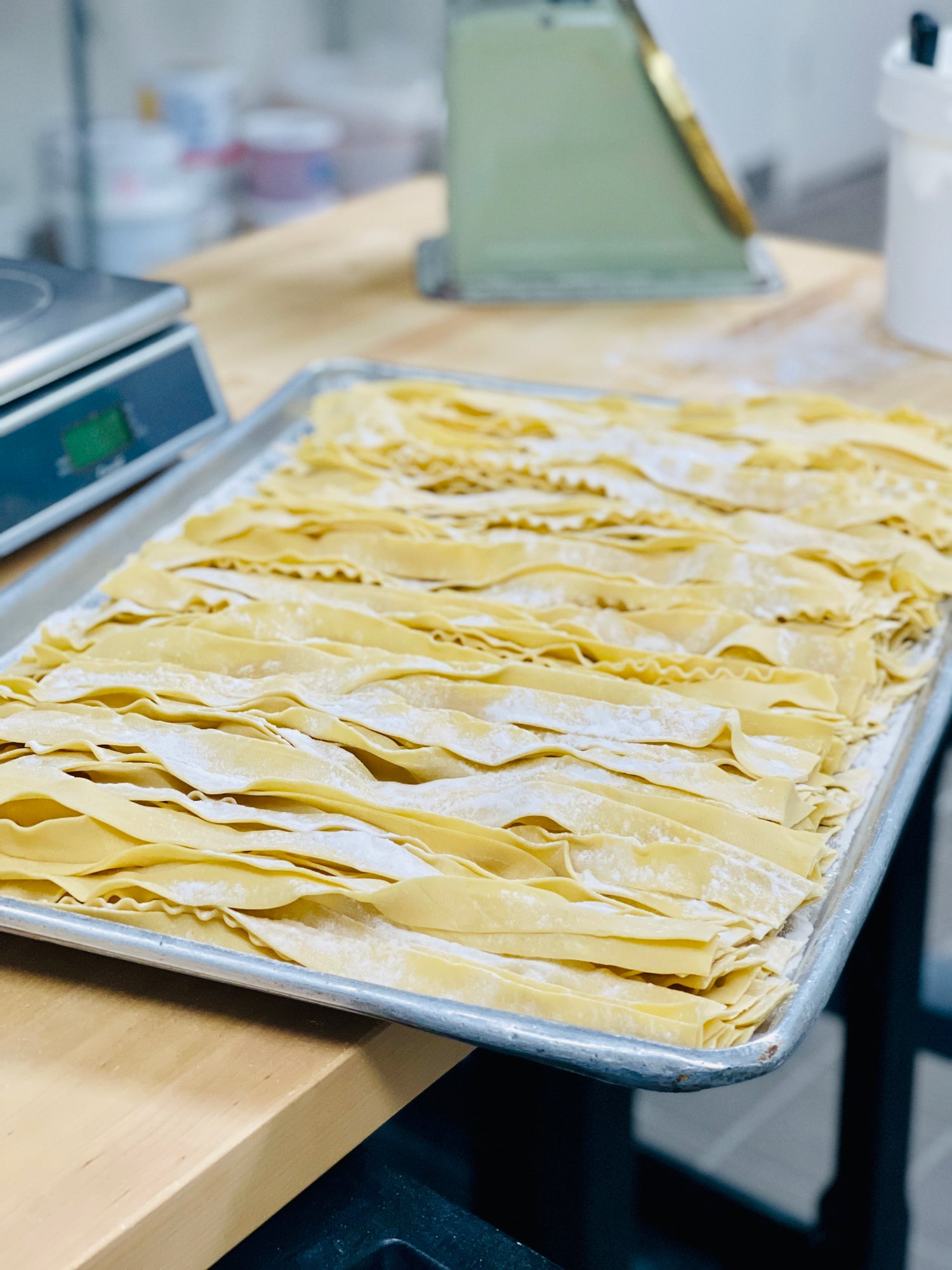 Endless pastabilities
Fresh handcrafted pasta with unique shapes, vibrant flavors, and endless satisfaction.
Learn Pasta

Specially curated recipes for everyone at every level. Quick and easy guides for the novice cook, and multi step methods for the advanced home cook. Learn more.

Even More Ways to Buy

We've partnered with a number of local businesses and markets to make it even easier to shop for you favorite products. Where to Buy.